Cole-Parmer -New Distributor
Scroll Labs has recently signed a contract with Cole-Parmer to  become a distributor for our SVF vacuum line. We are very proud and excited to have our small vacuum products represented by such a fine established company.
Since 1955, Cole-Parmer has been a leading global source of laboratory and industrial fluid handling products, instrumentation, equipment, and supplies. They are proven experts in the fields of temperature measurement and control, electrochemistry, and fluid handling. Their products are sold throughout the world by company-owned customer channel outlets and a strong network of international dealers.
Cole-Parmer Instrument Company manufactures and supplies temperature measurement and control, electrochemistry, and fluid handling products and equipment. They offer balances and scales, baths and circulators, calibration, chemicals, reagents, lubricants, clean room, cooling equipment, fittings, and liquid handling products serving customers worldwide.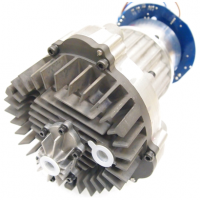 Cole-Parmer recommends Scroll Labs pumps to their customers as an excellent choice to replace diaphragm pumps and rotary vane pumps in virtually all vacuum applications including OEM equipment, laboratory, R&D, medical equipment, GCMS, LCMS, and freeze drying.
Cole-Parmer's customer base and complementary catalog opens new industries and applications for our pumps in analytical instrumentation, laboratories, backing pump for turbopumps, and in practically  all areas in which clean vacuum is needed.
This new distributorship  will help us to reach more industries and potential customers all over the world and customers will have easy means to view our products on Cole Parmer's efficient digital catalog.
In addition to Cole Parmer's portfolio of industry-leading brands and private-label products, they are also renowned for their exceptional customer service and technical support.  One of the companies  unique features that they have an ISO-17025-accredited metrology lab for instrument calibration and repair. Further their BioConnect® program offers single-use custom assemblies.  Learn more about BioConnect here.
Team Scroll Labs
Tags:
Cole Parmer